Hays Vendor Management System (VMS)

The Hays eRecruitment and Resource Management Tool
Hays' central procurement platform supports you in establishing efficient and transparent personnel and service procurement processes.
Without the Hays Vendor Management System, your various functional departments, HR and purchasing are limited to using conventional tools and methods to cope with the growing complexity in recruitment. This is no easy task: requests and candidate profiles need to be administered, working times recorded, market prices assured and budgets and contracts managed.
The Hays Vendor Management System, however, covers all the requirements specifically related to HR and service procurement: from request and resource management to cost control. This ensures that processing and staffing times as well as primary costs can be demonstrably reduced.

This web-based tool ensures transparency by providing you with a comprehensive means for analysis. All communication is automated and reliable mechanisms support the safe use of sensitive data and conformity with your compliance guidelines.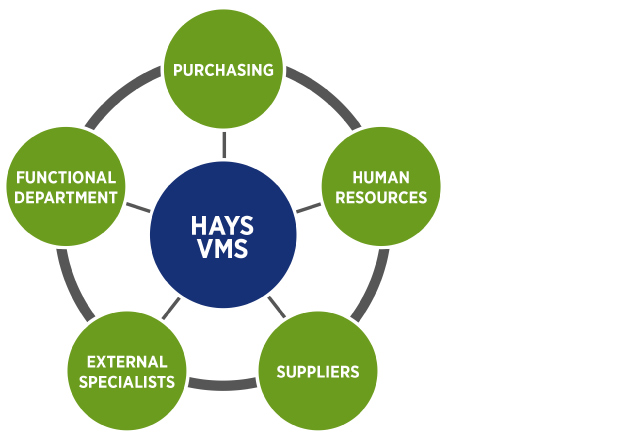 Developed in close cooperation with our customers and continuously being improved, our eRecruitment tool gives you the best possible support for your HR and procurement services needs.
For our customers, the Hays Vendor Management System is an integral part of their success strategy for:
transparent procurement
efficient management and
comprehensive analysis
Learn more about the Hays Vendor Management System: As part of a one-to-one meeting, our competence team would be happy to answer any questions you may have about the possibilities and advantages of working with us.
Would you like a personal
no obligation consultation?