RECRUITMENT SERVICES
in Switzerland
In spite of economic fluctuations, specialists are more in demand than ever before. For businesses, filling available positions with suitable candidates is no small undertaking. It requires a great deal of time and expense.
As specialists in the recruitment of your staff in Switzerland, we offer you our in-depth experience and long-standing competence so that, with us, you can quickly find exactly the right specialists that meet your individual requirements. We are in contact with the right specialists and know your markets and needs.
Hays recruits academics with professional experience in the following areas:
Recruitment by location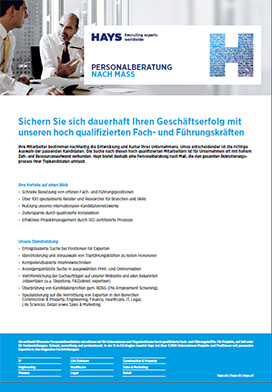 "Permanent" factsheet
A factsheet outlining our competence in permanent placements.