IT Services &
IT Solutions Switzerland
IT Services, IT Solutions in Switzerland
We will accurately implement your business needs and develop forward-looking solutions – from planning to operations.

Consulting
Our experts are always on top of the latest trends and innovations, ensuring that you´re always prepared for future challenges.

Projects
We employ experts with the widest variaty of specialist knowledge. And we can assamble project teams to specifically suit your needs and requirenments.

Operations
An independent organisational unit with your own exclusive service manager ensures that your outsourced and clearly defined operational tasks are correctly implemented.

Your advantages at a glance
We're definitely not "one size fits all". We analyse your needs, create a bespoke offer tailored to your specific requirements and recruit a team that suits you.
Your one-stop shop. We provide single-source personnel services so you can avoid the confusion that sometimes arises from working with multiple subcontractors.
The right expert for every task. As a recruitment services provider, we have a large pool of specialists at our disposal and can offer you the right experts for even the most highly specialised tasks.
Efficient, cost effective and independent. As a manufacturer-independent provider, we focus solely on your needs.
Always on track. Thanks to our flexible structure, we are always in a position to adapt a running project to new requirements or changing circumstances.
Rest assured with Hays. Through our many years of experience as an international personnel services provider, you can always be assured you have the world's best experts working for you and that all applicable legal requirements and guidelines are being observed.
Transparent. You reduce your operational risks because we deliver higher transparency and measurable results.
Keep the focus. You can put the focus back on your core business and thus have more capacity to implement your internal projects.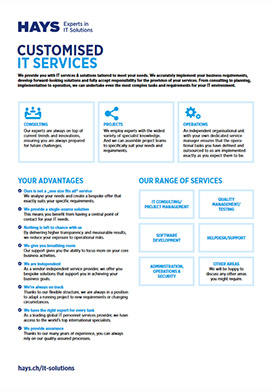 Fact sheet IT Services & IT Solutions
Here you can download the IT Services & IT Solutions - customised IT services fact sheet.
Our portfolio of services in detail
IT consulting and project management
Business analysis
Planning, conceptualisation and realisation of IT and Big Data solutions
IT service management
Quality management
Test management
Test coordination
Functional and technical testing
Development of individual software solutions, eCommerce, web and mobile applications
Customisation and adaptation of standardised software
User helpdesk
1st, 2nd and 3rd level support
On and off-site solutions
System, network and database administration
Operational infrastructure (client, Cloud computing ,Cyber security, IT service management)
We would be happy to speak with you in person and provide you with individually-tailored advice. We look forward to hearing from you.