Management learnings from the world of football
To survive in the ultra-competitive world of top-class sport, both team and individual performance must be optimised to their greatest extent. This is where leadership plays a central role – because whether it's in sport or the corporate world, leadership means creating the conditions that enable groups of differently talented people to work together successfully as teams. And part of the responsibility of management includes being open and having the courage to explore new ideas.
Leaders must have the strength to make decisions and implement changes that will meet with resistance, particularly when things are going well within the company. In his lecture, Bernhard Heusler will take you on a journey into the world of football and explain how you, too, can fully exploit your team's fullest potential.
Bernhard Heusler holds a doctorate in law and worked for many years as a commercial lawyer for two nationally active law firms. From 2009 to 2017 he led FC Basel, which won eight league championship titles in a row during this time. He also increased operating sales from CHF 30 million to CHF 130 million for the club, which employs around 250 people. From 2012 to June 2017 he was co-owner and president of the club. When he resigned in 2017, he was appointed honorary president of the club.
Since 2018, he has been a partner at Heusler Werthmüller Heitz AG – a company he founded and which offers services in business, sport and culture.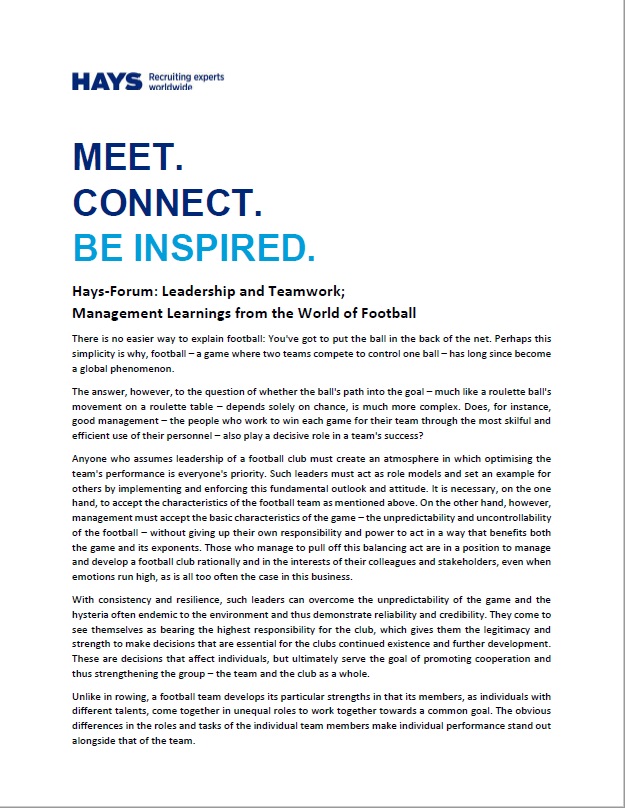 Presentation Bernhard Heusler
Here you can download the summary of the presentation of Bernhard Heusler on the topic "Leadership and Teamwork".
Videointerview with Bernhard Heusler (Video auf Englisch, Dauer 2:35 Min.).
Der Inhalt kann aufgrund Ihrer Cookie-Einstellungen nicht angezeigt werden.
Bitte aktiveren Sie die functional Cookies und laden die Seite neu, um den Inhalt zu sehen.