Here you can find candidate testimonials and customer success stories.
What our candidates think
In this video interview, three candidates talk about there experiences with Hays.
Axel Calkosz, freelance Pricing Specialist (Duration 03:29 mins.) (Video is in German)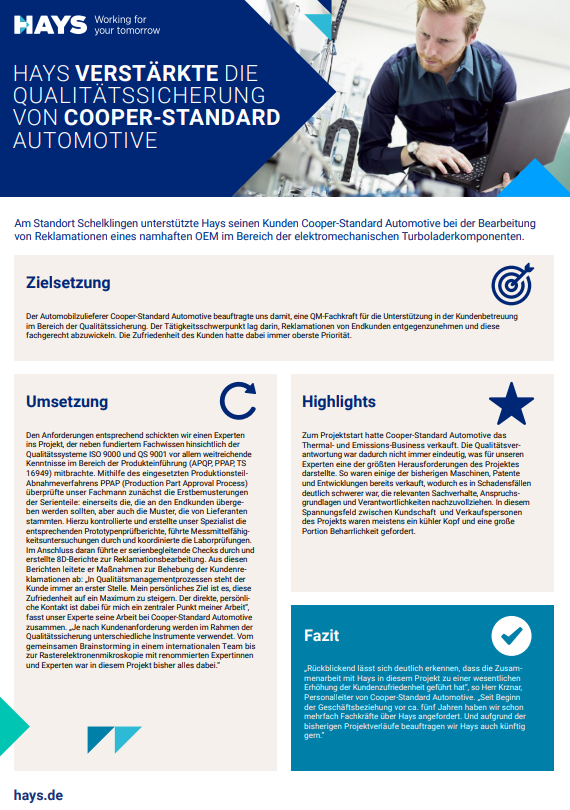 Cooper-Standard Automotive
Hays strengthens quality assurance at Cooper-Standard Automotive.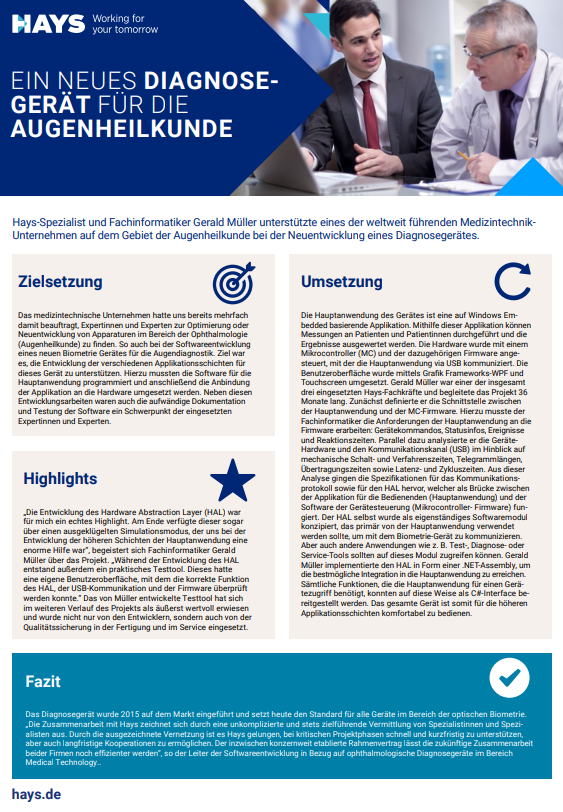 Medical technology company
A new diagnostic device for use in ophthalmology.
Businesses benefit from Hays' experience in the labour market
Over the course of the very successful history of our company, Hays, the professional personnel services provider, has developed into an indispensable partner for thousands of customers
As an acknowledged expert in permanent and temporary employment, Hays offers the most appropriate personnel solutions for all professions and requirements at 30 locations in German-speaking Europe. The great trust placed in Hays' professional experience has proven to be a decisive factor in the business success of not just our customers: Our continuously growing customer base has also allowed Hays itself to progress further, so that our offices in Zurich, Geneva, Basel and Bern now also count as some of the most important loc/personalvermittlung/personaldienstleister/standorte/genftions for our company.
The flexible labour market has become a significant business opportunity – thanks to Hays' experience
As specialist recruiters across numerous industries, Hays finds motivated executives and specialists to suit every need. And considering the ever more flexible nature of the labour market, Hays has proven itself to be an indispensable business partner. From highly skilled IT professionals to engineering and healthcare specialists to marketing executives, Hays uses all its resources and experience to find the right people for ensuring its customers' success. With its core values of "partnership, security and forward thinking", Hays supports its customers in all their current personnel management challenges, ensuring their long-term economic success. However, it is above all the speed with which we take action that our customers most appreciate. A pool of around 450,000 candidates available – on demand – makes it possible to find the right individuals in the shortest possible time. This represents a decisive competitive advantage for a company's internal human resource management as well as its project organisation.
The world leader in customer orientation
More than 220,000 staffed projects in Switzerland, Germany and Austria alone confirm Hays' role as a renowned personnel services provider. And with representation in 33 countries and 257 offices worldwide, Hays also demonstrates that the global working world relies on Hays' experience. Continually increasing corporate turnovers and continuously improved corporate goals confirm that more and more companies are turning to Hays as a global recruitment agency. Above all, companies cite Hays' high level of customer orientation as the most important reason for choosing Hays. And in Switzerland as in our other markets, Hays employees focus solely on the customer's success and thus guarantee individual support and assistance. Regardless of whether it's assembling an entire team on a per-project basis or hiring new permanent members of staff, Hays has motivated people with enormous potential to suit every requirement.
Hays supplies the best candidates
With companies such as Telekom, Lufthansa and Audi as our customers, the most important economic players are already relying on Hays' experience. A key reason why thousands of customers place their trust in Hays is the unique recruitment process we use that reliably ensures a perfect match between customer and candidate. Methods that have been established over many years and repeatedly updated and adapted provide the necessary assurance for finding the most qualified experts for every company. In addition to their professional competence, our candidates' soft skills are also taken into consideration in our thorough assessments and evaluations. Hays is thus able to drill down to the most appropriate individuals in our personnel database to suit every requirement. Compared to the time and expense involved in intensive in-house recruitment, many customers see the Hays recruitment process as the perfect answer to their recruitment needs because of its swift processing and extensive saving in resources.
Here you can find testimonials from three of our customers.
Der Inhalt kann aufgrund Ihrer Cookie-Einstellungen nicht angezeigt werden.
Bitte aktiveren Sie die functional Cookies und laden die Seite neu, um den Inhalt zu sehen.
Hays offices
near you
We have also offices near you! Here you´ll find all hays offices in Switzerland.
Our references


Evaluate the quality of our services by the quality of our customers! Over 2,000 customers already use our expertise to their advantage.