Finding suitable candidates

with a recruiting funnel
It's no secret that the recruitment process is long and tedious. Potential candidates run through many stages from the search for the right person for a position to their familiarisation. And although it's important for companies to design every step of their recruiting process as efficiently as possible, it is also important to understand the route that the applicant takes and understand the points at which valuable candidates can bail out. This is where the recruiting funnel comes into play.
Are your applicants bailing out? And you have no idea of where, when and why? You can identify potential weaknesses in your recruiting process with the aid of the recruiting funnel, and remove any stumbling blocks for your applicants.
Do you want to receive suitable applications more quickly?
What is a recruiting funnel?
The recruiting funnel is a recruitment instrument which helps companies to visualise and quantify individual stages of the recruitment process. It divides the process into individual steps or phases, and shows the path which potential employees will take from initial contact with your company until they are appointed (candidate journey). This will give you a better understanding of where your candidates are becoming stuck in the application process, and identify areas or phases in which you should improve your hiring strategy.

Setting up a recruiting funnel
The set-up of a recruiting funnel is closely linked to the candidate journey, and will probably look different in your company than it does in others.
The set-up of the candidate journey, the channels you use and how you persuade potential candidates to join you can be basically be summarised in five phases:
Awareness, Attraction, Application, Selection, Hiring
The use of the recruiting funnel
Having a recruiting funnel may well be a good thing. But it's even better if you use it properly - in other words, look at each individual phase and optimise it. Because each step involves measurable metrics which can be improved using targeted methods.
For example, you can measure how many people you reached in the first step, and how many clicks you received on your career page as a result. If you notice a considerable reduction in the numbers during the transition from one phase to the next, you must analyse exactly what you can do better in the phase concerned.
Using the funnel that is shown, you can quickly see at which part of the candidate journey you are losing applicants – somewhere between the career page and the possibilities of submitting an application. Take a closer look at this, and consider which needs of your target group you may be neglecting. Is some important information about the position missing? Have you depicted the values of your company in a sufficient way? And, above all: Is it easy for applicants to submit their applications to you?
If you have adapted individual elements of your recruiting process as a result of your analysis, check whether this has had the desired effect after a couple of weeks.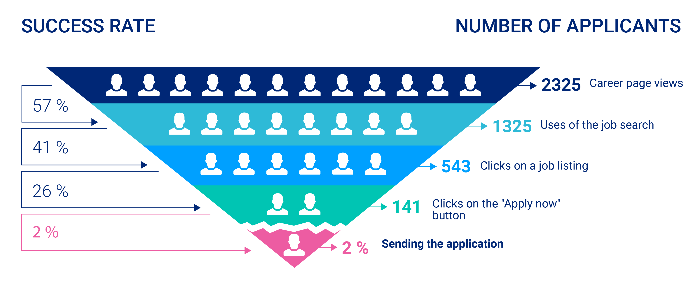 Our tip: Use qualitative analysis tools to monitor digital user behaviour. Speak to your marketing team if you don't know how to track the data yourself. You can only use and optimise your applicant funnel for your recruiting measures if you have meaningful numbers, so that you eventually reach the applicants that you are looking for.
1

Awareness

You will receive many qualified applications, particularly if your job ad reaches a wide range of potential applicants. Your employer branding will definitely help you to establish your company as an attractive employer brand on the job market. You should also use job websites as well as targeted E-recruiting, social media recruiting and specialised LinkedIn recruiting for your candidate search. Our tip: First try different channels to find the right talent. Then, after evaluating and comparing the channels, focus on certain channel measures and intensify your efforts on them.

2

Attraction

Are your initial measures having an effect, and you are reaching a wide range of potential employees? Then it is a case of: Carrying out persuasion work. Because anyone who is now showing an interest would like to know more about your company. Interested parties will do this on your career page, your social media accounts and your job ads. You should therefore take great care when you are designing these contact points. If your company makes an impression during this phase, applicants will be more motivated to want to introduce themselves to you.

3

Application

The tension rises: You've already reached and impressed a large pool of potential applicants during the previous steps, but they may suddenly bail out during the current application phase anyway. This is because your applicants have to become active for the first time in the entire application process. And the easier you make this phase, the more (qualified) applications you will receive. Reduce the number of hurdles by offering your interested parties the following on your website or your social media profiles:

Multiple contact options (via email, chat or personal message on social media)
Application via online application form
Application via interface (e.g. link to LinkedIn)
Information via personal contact person (e-mail, telephone)

This provides applicants with all of the useful information, they can speak to you, ask questions in advance if necessary and even apply to you on the go.

4

Selection

You have several applicants in your inbox or your applicant tool. Now it is up to you to find out which applicants fulfil your requirements and impress with their qualifications.

5

Hiring

Your efforts have paid off. From all the potential candidates which you reached, you have found the one who is suitable for your company and the vacancy. Now you just need to clarify the conditions together and draw up a contract which you are both satisfied with.
Pros and cons of the recruiting funnel

First the pros: All industries and specialist areas can benefit from the recruiting funnel, even those who are affected by the shortage of skilled workers. In addition, you can even reach specialists and managers who are already employed and not actively looking for a job. Ensure that you present yourself as an attractive employer brand, which will possibly encourage people to apply who appear to be happy in the company they are currently with.

But the recruitment funnel also has its cons. This is because it only regards the recruiting process as something linear, and does not incorporate the complete candidate journey. The applicant funnel does not go beyond the stage of application generation, nor does it consider existing contacts from previous job searches. In other words, the recruiting funnel always starts from the beginning as soon as a new position is available.


However, qualified applicants can be included in an applicant pool and be hired for another position at a later date. The recruiting process is no longer linear, but circular. A simple funnel becomes a circuit and the recruiting funnel turns into a recruiting wheel.
If you are stretched to your limits when it comes to personnel and would like to relieve the strain on your recruiters, we would be pleased to advise you and take care of your personnel recruitment.
You might also be interested in: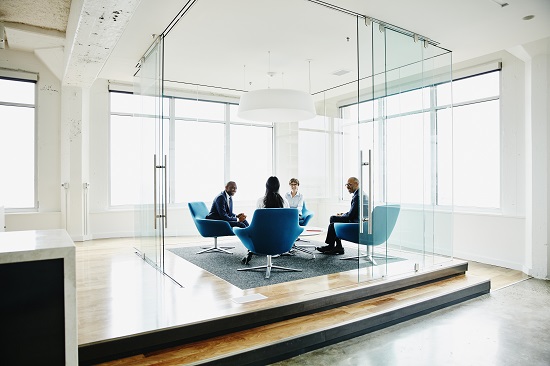 Recruiting centre
Do you know about all of the latest recruiting trends and know the best way to reach your desired candidates? We'll show you what matters in the War of Talents.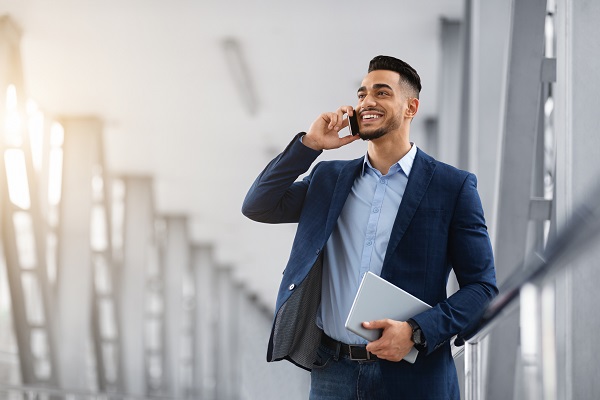 Inbound Recruiting
Reinforce your employer brand, and magically attract qualified applicants with inbound recruiting. Get some tips on how to trigger enthusiasm in your company.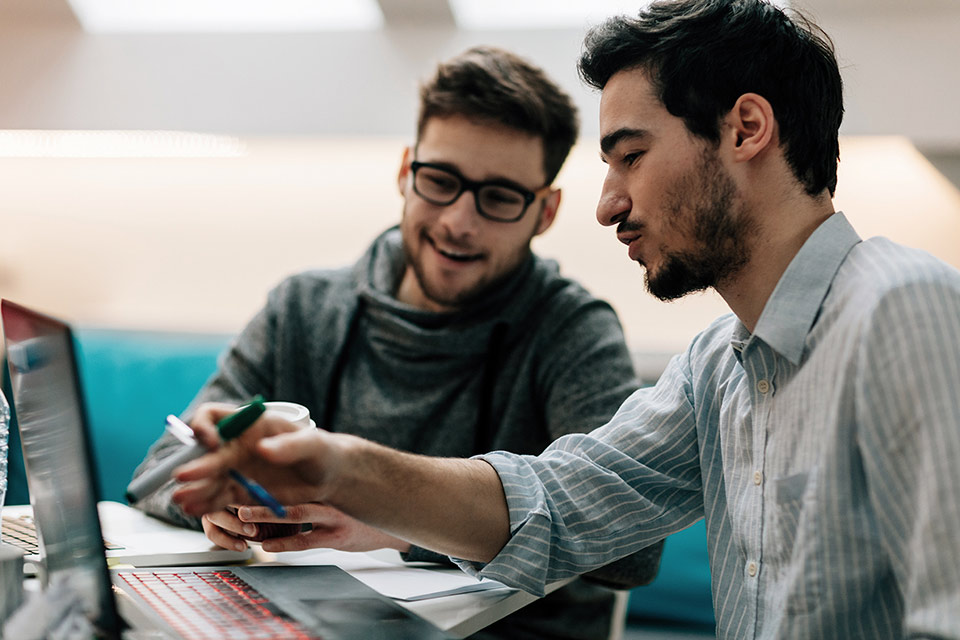 Campus Recruiting
Take care of recruiting junior employees at an early stage, and reach tomorrow's talent using university marketing.