Discover 8 secrets of perfect decision making
This year's key note speaker, best-selling author and entrepreneur Rolf Dobelli, is an expert in the art of thinking clearly and in perfect decision making. He invites you to take a step back and consider the process through which you make decisions about your work, your money, your time and the people in your life. During his entertaining speech he will point out and discuss some typical systematic decision making traps we regularly fall into and provide you with some simple tools to help you boost the quality of your decisions. This is especially relevant in business where increasing the quality of your decisions translates directly into monetary gains.
Rolf Dobelli received his MBA and PhD in philosophy from the University of St. Gallen, Switzerland. He is a serial entrepreneur, thinker and writer.
Dobelli is best known as the author of The Art of Thinking Clearly, an instant success which spent 30 weeks at the number one spot on Germany's Der Spiegel bestseller list and was the most popular non-fiction book for the entire year 2012. He is also the author of Die Kunst des Klaren Handelns ("The art of acting smartly") which was published in 2012.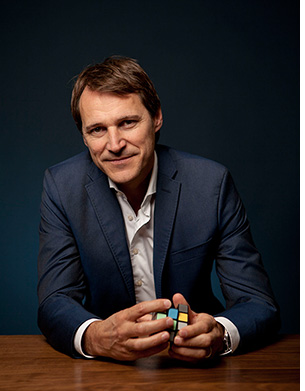 Photograph: Phil Mueller
He co-founded getAbstract, the world's largest publisher of compressed business knowledge. He also founded WORLD.MINDS, a community of some of the world's most famous, distinguished thinkers, scientists, artists and entrepreneurs.
He regularly writes for Europe's most esteemed newspapers, including Germany's Die Zeit, FAZ and Switzerland's Sonntagszeitung. From 2003 until 2008, Dobelli hosted a weekly television show, about books and business topics, on Bloomberg Television Germany.
Learn more about Rolf Dobelli
Here you´ll find a short summary of Rolf Dobelli's presentation on the Hays-Forum 2016.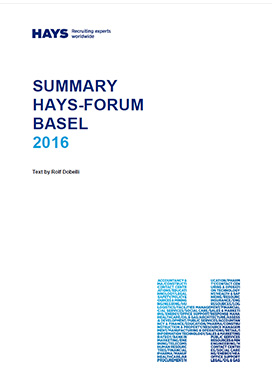 Presentation Rolf Dobelli
Here you can download the summary of the presentation of Rolf Dobelli on the topic "Discover 8 secrets of perfect decision making".
Interview with Rolf Dobelli (Duration 05:43 Min.)
Der Inhalt kann aufgrund Ihrer Cookie-Einstellungen nicht angezeigt werden.
Bitte aktiveren Sie die functional Cookies und laden die Seite neu, um den Inhalt zu sehen.